Places you should know - Colombia
If you want to experience Colombia as a whole, you would probably have to go all around it! not only the cities, and the landscapes are different everywhere, but also the climate, the people, the vegetation, the animals are so diverse...
So here I will just tell some of the most "famous" places, and some of the ones I would recommend you to visit... but be sure to search for more before and while you are visiting Colombia!
Cities
Bogota
: "2600 meters closer to the stars" Colombia's capital city. With almost 7 million inhabitants, it is a great met
ropolis, with many things to see... your visit would probably include a visit to the city center including: La Candelaria (the old town), the Plaza Bolivar, the "Eje ambiental", the Museo de Oro (Colombia's worldwide famous Gold Museum), the many flea and handycraft markets, and certainly going up to Monserrate
(either walking, by funicular or by cable-car) to have a great view of most of the city, and if you are lucky and it is clear enough (something that may be difficult lately because of the pollution... :s) you can even see the snowy peaks far far away in the background.
Another place I'd recommend to visit is the "Parque Simon
Bolivar", where you would find the biggest park in the city, the Botanical Garden, the sports' center, Salitre Magico (an amusement park), and Virgilio Barco's Library (a great architecture masterpiece I think).
To the north of the city you would also find shopping centers, bars, discos, etc...


Cartagena

: is probably the most touristic city in Colombia... thanks to its Ciudad Amurallada ("Walled City") where you can find colonial architecture, small stoned streets, and beautiful and colourful balconies...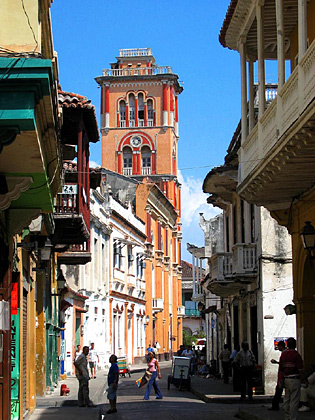 Other big cities are Medellin (the second biggest city), Cali, Barranquilla, Santa Marta, Bucaramanga... etc...
Towns
If you go to Colombia you should definitely visit some of the small towns around the cities, specially the towns around Bogota, and in Boyaca are some of the more beautiful ones (among the ones I know...). Specially Villa de Leyva, Raquira (famous for its pottery and handycrafts), Zipaquira (with its underground "salt cathedral") are highly recommended!

National Parks

Another thing you should definitely visit while in Colombia is one of its many national parks. Wether you decide to go to visit the Amacayaku NP to see the Amazon, the Gorgona Island NP
to see whales and dolphins, the Tayrona NP to enjoy beautiful beaches and an amazing biodiversity, or any other you will certainly find it an unforgettable experience!



This is only a small part of what you should know in Colombia, if you want to see more please check this 6 minutes long video, and you will see how diverse and beautiful our country is... :) we must work hard to protect it!